TK Hansen
Writing. Always writing . . .
Got the book published on Smashwords. Amazon refused it because of the adult content. Their guidelines appear to have changed considering what they have sold in the past! Can't please everyone I suppose, ho hum.
Giselle
Amazon's picky about stupid stuff--I had a book blocked because the word "virgin" appeared in the blurb. Not that they'll ever tell you exactly what the trigger was. Usually it isn't the content that'll get your book banned, but rather the blurb containing some word they've red-flagged or the cover being too explicit. Tricky stuff.
Anyway, got a new book out?
TK Hansen
Final Night
Giselle
Tell me about it.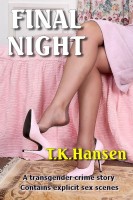 TK Hansen
A transgender crime story. Very adult content.
Sandra Kirk is trying to come to terms with a violent sexual assault. She is part way along the difficult road to gender reassignment, still in the merry-go-round of psychological assessment.
Fortunately, she has supportive friends, although they are troubled that she must resort to selling herself for sex in order to raise the necessary capital to complete the gender transformation in Thailand. The end - as Sandra is fond of saying, perhaps to convince herself - justifies the means.
Then her boyfriend takes her on a business trip to the Isle of Wight where, to her horror, she encounters the two people who assaulted and raped her.
From the depths of her anguish she evolves a plan to pay them back for the pain and humiliation they have caused her ...
Giselle
Wow, that sounds kick-ass! Where can readers buy it?
TK Hansen
https://www.smashwords.com/books/view/520318
Giselle
Where can readers find you?
TK Hansen
My own website:
http://bit.ly/1A8rgze
Free short stories on there too. Generous or what :)
Giselle
Thanks so much for telling us about your book!