Okay, so they're not actually SHORT shorts. As far as shorts go, they're a pretty standard length. But nobody ever wrote a song that goes "Who wears pretty standard length shorts?"
Anyway, what I'm trying to tell you is that I've been publishing a lot of my old anthology contributions as erotic ebooks. Just little standalone stories. Just a little treat for the mental taste buds at a low, low price. The ones I'm going to tell you about today are all priced at $0.99, I'm pretty sure.
Here are just a few of my erotic stories newly available as ebooks. Hope something strikes your fancy!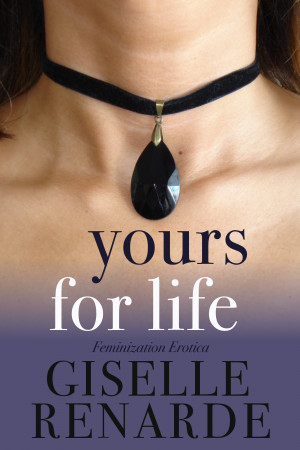 Yours for Life
Feminization Erotica
ISBN 9780463506127
Brian thinks he's old. The little man no longer stands at attention, and he refuses the blue pills Marina encourages him to take. Middle age is a time for chaste companionship, he says. Well, Marina won't take his lack of enthusiasm lying down. She's full of lust and she'll try any trick in the book to arouse his interest, especially if it means putting her husband in a dress and making him hers… for life!
This story includes puppy play, feminization, senior sex, collaring, married sex, a bisexual wife, and femdomination of a sissy husband!
Buy your copy from any number of online retailers, including Smashwords:
https://www.smashwords.com/books/view/940286?ref=GiselleRenardeErotica
The Psychic Harem
Lesbian Group Sex Erotica
ISBN 9780463282519
Dianne's given enough to her greedy long-term girlfriend. When Jane leaves her for a grad student, Dianne decides to be the greedy one for once. She visits The Psychic Harem, a group of women who have been bred for the selected trait of sexual generosity. All she has to do is lie back and enjoy while they fulfill every need and desire Dianne never knew she had.
This one is lesbian sci-fi group sex set in the not-too-distant future (next Sunday A.D.)?
Buy it from Smashwords:
https://www.smashwords.com/books/view/941314?ref=GiselleRenardeErotica
Mourner for Hire
Terrifying Ghost Sex Erotica
ISBN 9780463357125
When out-of-work actress Dahlia is offered an easy gig at the cemetery, she scoops it up. All she has to do is visit grave sites on behalf of her clients, who have better things to do than pay respects to the dearly departed. Dahlia talks to the spirits. That's not part of the job, it just helps to pass the time. Bobby is her favourite--until he talks back! And when this supremely solid spirit follows Dahlia home, she finds him impossible to resist.
This one goes out to all you dubcon/dark romance/dark erotica fans! You know how it goes: ghost soldier follows woman home from the cemetery, wants a taste of that supernatural spirit sex, yadda-yadda-yadda, to be honest I forget how it ends. Read it and find out.
Also available from Smashwords:
https://www.smashwords.com/books/view/941483?ref=GiselleRenardeErotica
More to come! I'll keep you posted.
And if you haven't checked out my
Friendly Music Visitor site
, it's updated every damn day, so get your ass over there:
https://friendlymusicvisitor.blogspot.com
Thanks! Love you!
Giselle